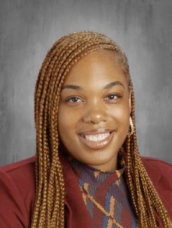 Jade McLeod
3rd Grade Teacher
Phone: 904-730-5500
Mrs. Jade McLeod
3rd Grade Teacher
Mrs. Jade McLeod, a devoted educator with an unwavering passion for nurturing young minds. Jade's educational journey began at Florida State College of Jacksonville, where she earned her associate degree, and her thirst for learning continues as she currently pursues her bachelor's degree at the University of Phoenix.
Beyond the classroom, Jade's life is a symphony of vibrancy. With 7 fulfilling years of marriage, she is blessed with three remarkable sons who infuse each day with boundless joy. Her spiritual foundation is rooted in her Christian faith, and she actively participates in the vibrant community of Builders of the Faith church, nurturing her spiritual journey.
In the realm of knowledge, Jade is not only a dedicated educator but also an avid reader who loves to explore the mysteries of space. With three rewarding years of experience in 4th-grade classrooms, she has found her true calling in teaching. Now, starting in August 2023, Jade McLeod brings her expertise and enthusiasm to Cornerstone School, where she embarks on her first year of teaching 3rd grade. She is eager to continue fostering growth, curiosity, and a genuine love for learning in her students. Join Jade as she navigates this thrilling educational odyssey at Cornerstone!